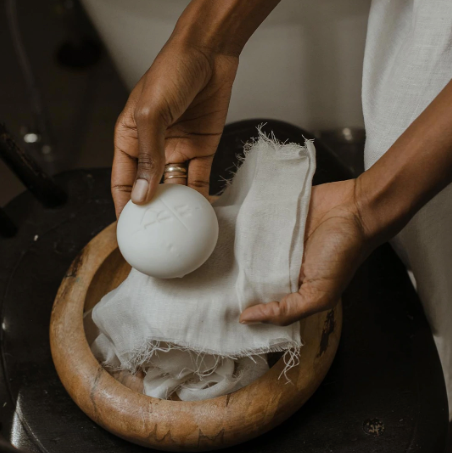 Kate McLeod
"We've continued to be impressed by the rigor MADE SAFE has applied to evaluating our ingredients. It makes us feel really good to have a third-party certification organization that is even more knowledgeable and nitpicky about ingredient safety than we are!"
Kate McLeod's body stones are plastic-free and zero waste solid form moisturizers. By removing water from their formulas, Kate McLeod is able to create sustainable packaging, a reduced carbon footprint, and avoid some of the biggest culprits of waste in the beauty industry. The packaging is reusable and all outer paper packaging is FSC certified. Their 100% cotton wrap can be upcycled as a reusable makeup wipe or composted.
The company, which is proudly Climate Neutral Certified, believes that climate change and mental health are inextricably linked. To support solutions, they donate 2% of their total annual revenue, split equally between environmental and mental health nonprofits.
The products below from Kate McLeod have been MADE SAFE® (Made With Safe Ingredients™) Certified.